USL's Super Y Regional Summer League 2021
Final Few Roster Spots Remaining:
Boys 2007 (accepting some 2008's)
Boys 2005/06 - FULL ROSTER
Girls 2007 (accpeting some 2008's)
Girls 2005/06
FAQ's
What is the Super Y League?
Essentially it's an extra season played in the summer after your regular spring season.
Teams from all over the country compete in regional leagues. At the end of the summer, league winners and some runners up will qualify for the National Finals held early December in Tampa, FL.
As Shoreline FC, we qualified for Nationals 5 times and have one semi-finalist and one National Champion.
When does it start?
Mid-June to late-July/early-August.
What's involved?
Twice a week training for 6 weeks in Chelsea Piers.
8 games in Greenwich or Rye. Most games will be at the weekend with the odd mid-week game.
Where do we travel?
We are currently the only CT club with this franchise so away games could be in New Rochelle, Queens, Long Island or Newark.
The furthest I've been for an away game is Morristown, NJ or Albany, NY.
Who can play?
Boys and girls born 2008-2002.
With us having almost 2 teams at every age bracket, we want to make one team which will be combined from both teams.
External non-CPSSC players are allowed to play for us too.
This year, for both boys and girls, the 2005 & 2006 age brackets will be combined, as will the 2004 & 2003/02.
What is the commitment?
We realize people go away in the summer and don't expect players to make every game. I try to make a big roster so accommodate players going away. I just ask you to let me know beforehand so I can plan accordingly.
Who will coach it?
As it's a CPSSC program it will be one of our highly qualified coaches.
What is the cost?
The cost is $695 for current CPSSC players, $815 for Non-CPSSC players.
What are the benefits?
Six weeks of training with up to eight games should every every player the 'extra' they are looking for, whether that's touches on the ball, game experience or fitness.
Teams going from 9v9 to 11v11 have benefited as this will be their first experience of 11v11 before their fall season.
Older players use our program to get themselves ready for their High School and College seasons. We've had positive feedback from HS coaches that our players who played Super Y came back fitter and sharper than other players.
USL Experience (USLX)
Top performing players each summer will be selected for the league's player ID program and invited for a unique experience at a USL professional club where they will 'live the life of a pro' for a few days.
At Shoreline, we had 4 players and 1 coach selected for this.
When should you let me know?
Preferably ASAP. I need to let the league know by the end of next week what teams we will be entering.
What is the USL's Super Y Program?
The USL Super Y Program has been a mainstay in youth soccer for over 20 years now. It has a proven history of upholding the highest standards and accountability for its member clubs and players. Over 12'000 athletes on over 600 teams from more than 90 clubs through 25-states compete in the SYL program. CPSSC is Connecticut's only Super Y representative!
The Super Y League runs in the summer months, avoiding conflict with the State/Regional Premier leagues and CT State Cup. SYL offers the opportunity to compete for a National Championship (one of only three youth national championships). This'll be our 8th season of participation. In previous seasons, we've had FIVE teams qualify for the SYL National Finals. Porto (Boys 2002/03) were beaten Semi-Finalists in 2018 and Liverpool (Boys 1998/99) were crowned National Champions in 2015!
Why would it benifit me?
The SYL program assists college recruitment by a) giving college coaches the opportunity to watch LIVE games in their summer downtime and b) utilize game footage taken by CPSSC of the SYL season. It is a development pathway for players/teams to compete against the best competition regionally to qualify for the SYL national finals held in Florida in December. The SYL monitors each game with its scouting network looking for the most talented players to invite to the "USL experience" (a unique, environment for Super Y League's top young players. A 4-day event with professional USL clubs, these players get an insight to being a professional player).
What are the details?
-
CPSSC will offer a 6-8 week program from Mid-June through Late-July
- Selected CPSSC players and the best Non-CPSSC players form squads
- Practice twice-a-week @ Chelsea Piers or Greenwich Country Day
- Only our most qualified coaches will be assigned to the SYL program
- The regional league will consist of 8 league gaems (weekends & midweek)
- Our North Atlantic league consists of clubs like; Westchester Flames, Long Island Rough Riders, Gottschee, Ironbound, Cedar Stars, etc.
- Home games played in Greenwich, away games in NY or NJ.
- Regional league winners and best runners up qualify for the National Finals held in Tampa, Florida in December and the chance to be crowned NATIONAL CHAMPIONS!
What does it cost?
- The CPSSC Super Y Program costs $695. For non-CPSSC players, the price is $815 which incluedes uniform jerseys.
- IF you are a current CPSSC player aged 2009-2003, you can sign up by emailing to reserve your SYL roster place.
- IF you are NOT a current CPSSC player, you can register to tryout for a place on one of our SYL rosters. Tryouts will be on going.
1998/99 National Champions 2015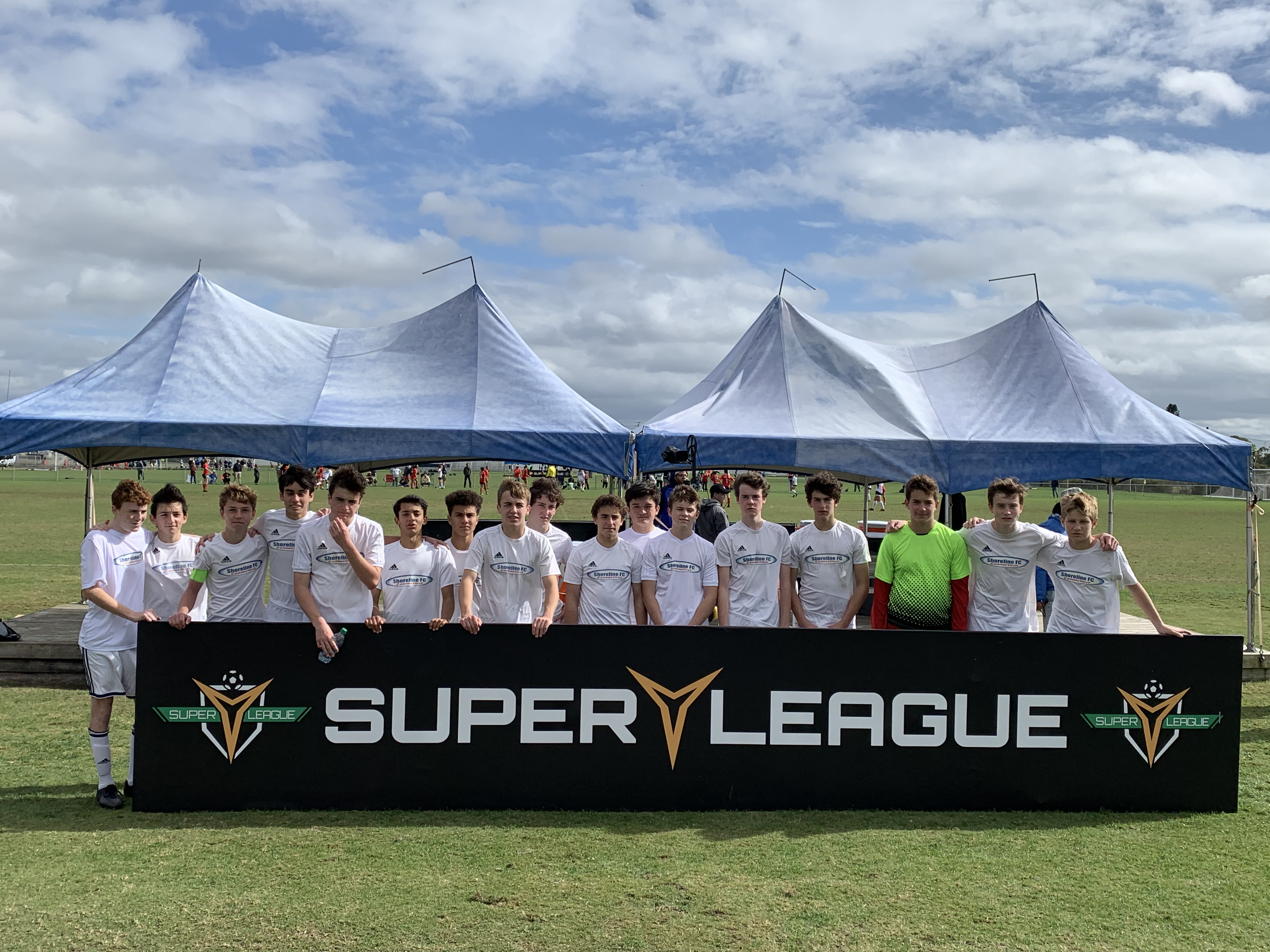 2002/03 2018 National Semi-Finalists
Players and Coaches who've attened the USLX through Super Y
​
02/03 boys enjoying down time in 2018
The Super Y Nationals are held at Hillsbourough County Sportsplex, Tampa, Florida
Do you want to be part of our 2021 Super Y Program?
CLICK HERE for Super Y registation details
https://www.chelseapiersct.com/soccer/summer-programs/super-y/
Please contact Super Y Director Joey Lafferty for more info